To offer the readers of
"The Thread" some explanation
and to clarify some matters,
Birdfish returns to make a post.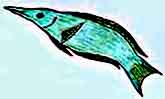 Birdfish
Hi all,
First to clarify some mis-information posted ... we never suggested the photos were put in PhotoShop by the photographer. We said we (and you) have to do so to see what it really looked like.
Here is another one of the original photos taken by Damselblue right after she received it, with the lighting adjusted to see how it really looked more accurately.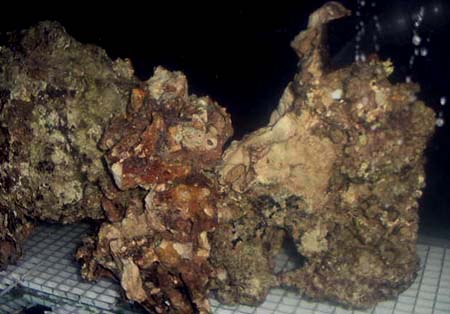 Had the color not been burnt out by flash overexposure, there would be much, much more color visible than shown here.
For those that think this is cut and dry, here is the story so far.
Two to three times as many people thought that this rock was worth the less than $3 a pound or okay (or better), than didn't.
We appreciate (almost)

everyone's opinions. Thank you all very much. We have had many customers who would have loved the rock. I'd like to cover a few customer service issues because I think they're important.
One thing is that our customer service does not merely take action if there is a problem, it starts before you order. In this case, Damselblue attempted (twice) to order XL's.
She was talked out of that based on other information she was giving us. She would have received half as many pieces TWICE as BIG had we not done so. Many companies would not have cared enough to do that in the first place.
Damselblue Wrote: "My father called to speak with you and you will not even speak with him."
Damselblue's father called and left a message on our office answering machine after closing hours on Friday night (7 p.m. local time here), although he did not state who he was. He called again during business hours Monday and talked to our office. The only thing that "refused to talk to him" was our answering machine (but it did listen), which typifies the accuracy of what has been put forth here. And, he asked why "the rock was dead."
Now, nowhere on our website does it say we sell small rocks, so any definition is a moot point.
As shown in our previous post, it was clearly stated the regular box is medium-large to large sized pieces. The word small pieces or rocks was not there, is not on our website, and never was. We send people away all the time who are looking for small pieces.
As for seeing our rock, we see it all the time, and probably a greater percentage of it than most other sellers. I spent so much time at LAX I have jet fuel in my blood, and I like the smell of it.

As an example, another customer who also received a box of this particular Fiji shipment, sent pictures ... when it came in, and again yesterday. It looked very like those here when it came in, and now it looks fantastic, less than two weeks later. He got a live seastar. So how long does rock sit when there are live seastars?
Many moons ago when I was customer service director for a "Fortune Second 500" company, I learned that customer service problems can only be solved after the irate customer has stopped ranting. They have to let the steam off before you can arrive at a reasonable and fair solution. Rarely, an irate customer may feel that the ranting must not have been sufficient or a solution would have been forthcoming.
Also the more fiction, the harder it is to find the facts. You can't solve the problem until you have all the facts.
If a customer is complaining that they ordered blue, when they really ordered and got red, sending blue is not the solution. Then it will have supposed to have been green.
We have offered Damselblue a couple of possible options to help remedy her situation.
And, if possible, we hope that something can be agreed upon to make her happier.
birdfish
---

Voice of Reason
Birdfish, I really don't think you need to say anymore.
Obviously this live rock was bought by a novice who expected way more than reality will allow.... "please forgive already."
In time, Damselblue will see and experience what we all have with live rock orders and that's inevitable as we all know.
"THANKS EVERYONE!"

...Continue to Act XXV - Scene Two