Fiji Large Acropora
Note: Fiji corals are currently unavailable
Additional Fiji corals photos can be seen here ...
2017 Customer Photos
Here are some recent photos of some Fiji large-XL size Acropora. We especially want to thank Walt Smith for allowing us to use these photos. Walt says that the pale ones are starting to show the effects of the very warm water over in Fiji now, but they're fine as long as you put them in normal water temperatures.

These photos show some of the variety and size of the large-XL size in Fiji Acropora. They come anywhere from 6 or 7 to 8 or 10 to a box. We (nor importer or exporter) guaranty large acropora. There is always a risk with transhipping them. However, they are usually overwhelmingly fine, with often just one DOA, or sometimes no DOA's. Just don't be surprised if you lose a piece or two when ordering the large-XL size. The folks in Fiji know what they are doing and our people in L.A. know what they are doing. It is about the best chance you have to get some big wild colonies without paying a couple hundred dollars each!
Thanks again to Walt Smith for use of these photos!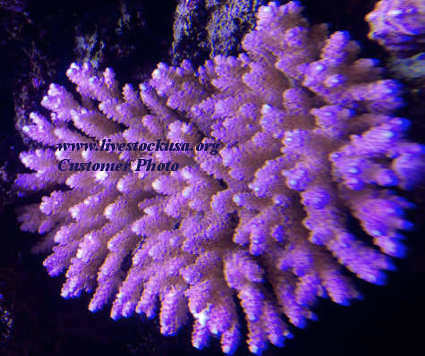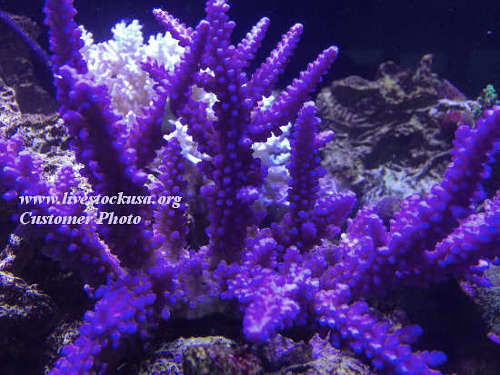 Thanks to Francisco M. of Miami for the above two photos!
Fiji Acropora Photos
Acropora Sale
Coral List Central
Acropora Selection Guide
Our toll-free phone for calls within the U.S. is open
Monday through Friday from 9:00 a.m. to 5:00 p.m.,
(Central time)
(866) 874-7639

(855) 225-8086
(If you should have trouble with the first number, please use the second one.)
Our E-mail
birdfish@livestockusa.org
Home

Site Map
All coral photos within this website are copyrighted and may not be used without permission.
All Rights Reserved

© www.livestockusa.org, 2012-2018