These corals are ordered directly from the source, at the point of origin ... various places in Indonesia and the South Pacific, in full boxes only ... approximately 15 to 20 or 25 pieces in the box, depending on where they are from.
A box-lot is a perfect way to stock an aquarium, or split an order with a couple of friends if you're each looking for about a half dozen pieces.
Ordering a box and splitting it amongst friends is a great way to save on shipping, since airport to airport shipping rates are much lower than overnight services. It's also a great way to obtain some rare varieties that often are not regularly seen in your local tropical fish store. This is because they are being shipped to you directly and no one else has picked through your box of corals.
There is a variety of availability, so please see the lists shown below in order so you can get an idea of where the different corals are ordered from. A box full must be ordered from any given source. You pick from the lists how to fill it.
If you are interested in ordering, please send an
e-mail
inquiry with your airport information so we can ensure that your airport is one we can ship to.
Below you will find additional information
and ordering details for corals from a variety of places.
___________________
Banda Corals
Banda is a new coral source, which is very good, priced somewhat lower than many other places are now. The Banda Islands are nestled within the Maluku Islands or the Moluccas, east of Java, in Indonesia. Banda has a great selection available from one place. Other than rare, high ticket items (Chalice, Scolymia, Acanthastrea, Blastomussa, Elegance, etc.), a box of 20 pieces of medium-sized corals is $700.
Banda Corals List
To order one box of Banda corals ...
you may place your order using
the ordering button, then send us
an e-mail with your list ... thank you!
Indonesia Corals
This is the newest Indonesia list of currently (mostly) available corals, which ships weekly, arriving on Sunday at LAX, Los Angeles, and Monday to you. All corals without pricing are $35 or less, smalls run about $30, usually. Only the more expensive items have been called out. Larger pieces, rarer types or some other varieties may be a bit higher.
What Indo calls a Medium 90% of the time is a Large in your mind or a store. What they call a Large is usually XL, unless of some rare variety or color, whence sizing is reduced. Usually there are only a couple of dollars difference in small and medium ... we order mediums, you tell us mostly how good the sizing was, that they are larges locally.

We guarantee Smalls and Mediums. Large and XL are ordered at your own risk, as they are really XL and XXL, and a percent of them will not handle shipping. With many items they ship fine, but some people want LG or XL Leathers, Frogspawn (Octopus), Hammer, Acroporas, that just don't ship well from Indo. So, if you want to take the chance, that's fine, we can order it for you ... BUT it is not guaranteed! We will tell you when you are attempting to order a "poor shipper" or no-guaranty item.
A note about shipping ...

These prices are FOB (freight on board) LAX, you pay the domestic freight to the airline when you pick it up at your airport. Usually $100 or so for a box coast to coast, varies with airline and destination, western states often a little less, $75-80. Because airfreight has a minimum charge and the box is only 50 lbs. or so, you can actually get two boxes for very little more than one as far as shipping is concerned. Usually they leave LAX Monday a.m. so it is a late afternoon or early evening arrivial to your airport.



A note about ordering ...

Pick at least 22 pieces or so for a box, usually they come 20, but they need a couple of sub ideas and better from you ... I like to give them 24 items just in case. As they may have the item, but when the weekly permit for export gets issued Friday (the day before they ship), they might not receive an export permit to ship every type every week.
~birdfish
About this 2013 Indonesia corals list ... you'll notice some things missing, generally things that have been severely restricted the last couple of years, such as Elegance and Blastomussa among others. Currently there are few to no CITES permits being issued for them out of the Indo area; or, due to shortages, they are being bid up to ridiculous prices. Also, new things are now being restricted like the Green Octopus (Frogspawn) or Blue Mushrooms everyone wanted, so they have gone through the roof in price.
20 pieces of the regular medium items is $700,
$35 per piece, a "birdfish bargain" if I may say so myself.

Most of the pieces sell for double to triple that in the stores.
Indonesia Corals List
To order one box of Indonesia corals ...
you may place your order using
the ordering button, then send us
an e-mail with your list ... thank you!
Fiji Corals
Fiji has a limited selection but the quality is very high. It is the best place to order assorted wild Acroporas, you can't choose much about them but they are great mixed Acros. They are very good sized, what they call a medium will be a good full head colony. These boxes have 14-18 medium colonies per box.
For the full list of corals from Fiji, please see our
Fiji Corals List.
For Fiji acropora, please see our
Acropora Sale page.
Timor Corals
These are 5-star A-1 pieces of the highest quality
and best color and size. It's an extra flight to get it
to Jakarta, Indo for the flights to Los Angeles,
so extra money, but well worth it.
Any given item may or may not show up any
given week or order due to supply and or CITES permits.
RARITIES ARE RATIONED.
Timor Corals List
Tonga Corals
Check the list to see what is commonly available from Tonga ...
a box of corals from Tonga is packed with fifteen pieces per box.
Tonga Corals List
Australian Tanked Corals
Tanked Australian Corals List
How to Order
You must order a minimum of one box from any given source. One box cannot be made up from various, different sources. Your order will be packed for you at the point of origin.
From any single location, you can choose which corals you want in the box. Using the lists,
e-mail
us your "want list" and we'll send prices back to you. A box of corals will ship for about $80-100 freight on the average to your local airport. Sometimes it's only $60 if you live in the western U.S., about $80 to the middle of the country, and $100 to the east.
Remember, we'll need to know your nearest major airport.
Please note, for Indonesia corals, there is a box and packing charge of $10.00. From any source as needed, heat packs or ice packs are $1.00 to $1.50 each pending on how they ding us... usually one to two per box are used, varying with temperatures, but sometimes more heat in the winter.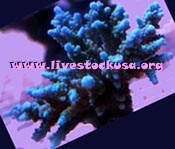 Please refer to our Acropora Sale page for information on
Acropora from Bali, Fiji, and Java acropora.
Acropora Sale
Australian Corals
Wholesale Only
$2K and up per box
(Approx. 22 pcs. per box)
Australian Corals List