SPECIAL SPRING SALE NOTICE!

For details, please see our
Updates Page!
Corals may be ordered directly
from the place of origin in
one box minimum of approx. 15-25 pieces,
You can pick what 20 or so types are
in the box.
For more information, please see
the links below for
"Aqua-cultured Box-lot Specials,"
"Hand-collected Hard and Soft Corals,"
and our "Acropora Sale."
BOX-LOT SPECIALS
Assortments of hand-picked corals by the box.
Box-lot Specials
HAND-COLLECTED HARD & SOFT CORALS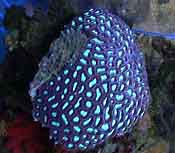 Assorted wild hard and soft corals, and
aqua-cultured corals from acropora or montipora
to leathers, as well as full wild rocks covered
with mushrooms or polyps, are available from
various areas of the South and Indo- Pacific
like Fiji, Bali, or Indonesia (Java) in minimum
one box orders.
You can order a custom box of what you want,
or, some of the suppliers make boxlot specials
on which we pass on the discount to you.
Those boxes are assortments of various selections
where they pick the best pieces each week to fill,
within the category you pick. For instance
softies, or Acros, or Mushrooms, or zoos, or all mixed.
Check the boxlots specials page to see those deals.
There are about usually 17-22 pieces in a box, and
you can choose which 20 or so you want in the box.
Though of course if you want lots of the rare stuff,
it will be more than boxlot special pricing.
Some sources, or larger sizes may be 12-15 per box.
Your order goes directly to the source where your
box is packed for you at the point of origin.
They are shipped via LAX where they get new bags,
water, and oxygen, and then to your local cargo airport.
Unlike most places, no shoppers (cherry pickers) are in
the repack facility, so no one sees your corals but our
repackers, what is packed for you by the exporter, you get.
You can use the main 'coral lists central' page which
has most of the source's lists on it, to find the
location that has the most of what you want.
If you want a custom box send us a list of the 20 or
so you want, we'll send you a quote.
Hand-collected Hard and Soft Corals
ACROPORA SALE
Acropora are available from Bali, Fiji, Java,
Banda, Kupang, sometimes Australia ...
(was Tonga too but that offline now)
Most Indo area sites ship every week or two,
based on availability of shipments, CITES
permits, freight space, orders, or even the
weather from points of origin.
Indo areas are cultured, and great, 3" plus colonies,
some sites have awesome cultured Montis and Euphyllia.
You may pick specific species (and some colors)
from their lists. Fiji has the best for full
head wild colonies. We use a different supplier
than most, he is slower, but much better quality
than the common Fiji Acros you see, it is 5-star A-1.
Acropora Sale
NEW - AUSTRALIAN TANKED
Tanked Australian Corals List
AQUA-CULTURED NANO CORALS
Aqua-cultured frags from Fiji and Tonga ...
approximately 2", or "silver dollar sized" (old),
depending on the shape and type of pieces.
Small, but awesome!
Box availability is either a selection of all of their
hard corals, or soft corals, or acropora ...
or an assortment of half of one type and half
of another, or a third of each. There is little
to no overlap in what they have available as
far as species mix goes.
The price for either one is $18 per piece,
plus a Fiji box charge of $15, and heat or ice packs.
Domestic freight from LAX to your airport is paid
directly to the airline at approx. $75-100 per box.
NOTE: Tonga nano has been offline currently so order Fiji for now.
If you are looking for sellable frags,
or to grow out some frags, these are ideal pieces.
Arrival day is a weekday to LAX, often Mon. or Tues.,
meaning arrival on Tues. or Wed. to your nearest cargo airport.
FIJI AQUA-CULTURED NANO CORALS
40 pieces per box
Cost: $720.00, plus $15 for box and heat or ice
TONGA AQUA-CULTURED NANO CORALS
50 pieces per box
NOTE: Tonga NANO offline now
Cost: $900.00, all included
To see a list of corals that are typically
available from Tonga and Fiji, you may refer
to the following lists to get an idea of their
hard corals, soft corals, and acropora.
Fiji Corals List
Tonga Corals List
You are guaranteed to be delighted.
birdfish
Domestic air freight is not included in the price and is
usually about $75-100 a box, $125-150 for two boxes.

Don't forget to send us
YOUR PHONE NUMBER
when you order.
THANKS !!