Shown below are lists or photos from various sources of polyps, including fancy zoanthids.
Assorted ...
Viet Nam Ultra - Rare, Premium & Limited Soft Corals, Zoanthids
assorted zoanthids, mixed soft corals, mushrooms
Includes nine each of Ultra-grade zoanthids, Grade-A soft corals; and six mixed combo rocks
Viet Nam Soft Corals, Mushrooms, Polyps
boxes of zoanthids, assorted mushrooms, or mixed soft corals
Note: When viewing the linked page, scroll down for ordering information for mixed zoanthids box
Timor (Kupang) Corals
assorted polyps, LPS, mushrooms, soft corals, hard corals
Ambon
cultured zoanthids, plus nano zoas & mushrooms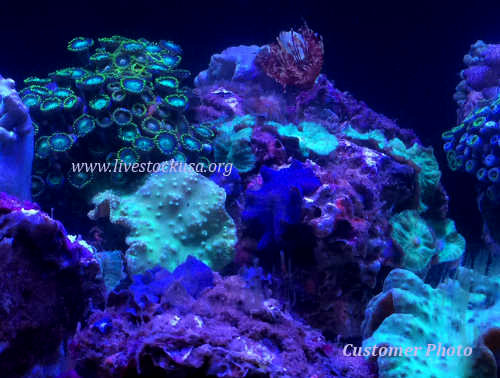 Viet Nam Rare, Premium & Limited
Thanks to Francisco M. for photo!
Note: Indonesia corals are currently unavailable
Select by type ...
Indonesia Corals List
polyps, mushrooms, hard corals, soft corals, sponges, inverts
Timor (Kupang) Corals
polyps, mushrooms, soft corals, hard corals, sponges & fans, invertebrates
Timor (Kupang) WYSIWYG
Jakarta-GMP WYSIWYG
Note: Tonga corals are currently unavailable
Tonga Corals
polyps, mushrooms, hard corals, soft corals, anemones, inverts