Shown below are lists or photos from various sources of polyps, including fancy zoanthids.
Assorted ...
Viet Nam Ultra - Rare, Premium & Limited Soft Corals, Zoanthids
assorted zoanthids, mixed soft corals, mushrooms
Includes nine each of Ultra-grade zoanthids, Grade-A soft corals; and six mixed combo rocks
Viet Nam Soft Corals, Mushrooms, Polyps
boxes of zoanthids, assorted mushrooms, or mixed soft corals
Note: When viewing the linked page, scroll down for ordering information for mixed zoanthids box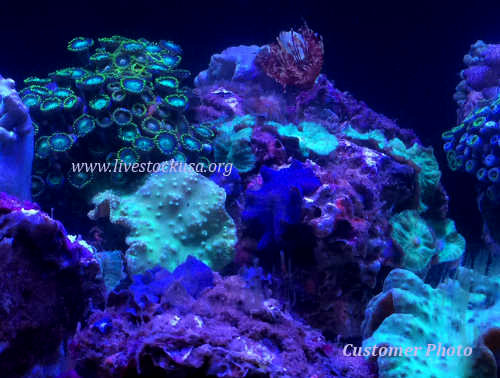 Viet Nam Rare, Premium & Limited
Thanks to Francisco M. for photo!
Select by type ...
Tonga Corals
polyps, mushrooms, hard corals, soft corals, anemones, inverts
Note: Indonesia corals are currently unavailable
Indonesia Corals List
polyps, mushrooms, hard corals, soft corals, sponges, inverts
Timor (Kupang) Corals
Ambon
cultured zoanthids, plus nano zoas & mushrooms
Timor (Kupang) WYSIWYG
Jakarta-GMP WYSIWYG