livestockusa.org
CURRENT UPDATES
This page is for regular visitors (or repeat offenders) who want to find out if anything has been added or changed on the website since their last visit.
The most recent updates will be posted here at the top of this page for convenient viewing of new material or website changes.
Thank you for your visit!
May 20, 2013
And now for something completely different....
FLORIDA BOXLOT SPECIALS: ONE WEEK ONLY!
FedEx to your door, everything is included!
Selections are one box per descriptions below
of either St. Thomas Polyps, Red Flower Anemone,
Green Flower Anemone, Ricordea florida
BOX #1: 20 Red Flower Anemone - $620
BOX #2: 10 Red Flower AND 10 Green Flower Anemone - $470
BOX #3: 30 Ricordea florida - mixed colors - $320
BOX #4: 20 St. Thomas Polyps - $420
BOX #5: 10 Red Flower Anemone & 20 Ricordea florida - $500
Pricing includes EVERYTHING:
product, box charge, heat/ice packs,
and shipping via FedEx STANDARD OVERNIGHT to your door.
Orders must be in by May 27th,
will ship on May 28th,
to you May 29th!!
To order ... select the box number from
the drop-down list below using the arrow
on the right to make your selection,
then click on the "Buy Now" button,
which will take you to a secure ordering page.
~ birdfish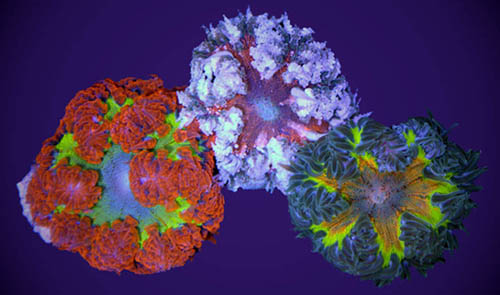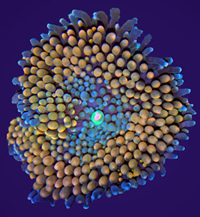 May 9, 2013
Hi all,
Check out our new "Coral List Central" page.
It has lists of most of the currently available
corals from many sources in one easy place.
Coral List Central
Manado live rock arrived in late April
and was fantastic! We are waiting for the
next shipment, which is hoped for by late May.
They can only gather, clean and prepare it so
fast. It is the only real-deal fresh,
air-freighted live rock currently available
and is as hard as ever to get. It sells out,
of course now that it is the only fresh live
rock available, so place your orders ASAP
to make sure you get in on the next shipment.
Orders placed a week before a shipment might
be hard to fill until the next following
shipment if it is already sold out.
Tonga has opened up on a limited basis for
some corals only, no fish, no live rock, yet.
Just a couple shipments so far, there seems some
ironing out of details to be done yet.
We're watching it closely.
Our non-mainstream Fiji Acro guy has the best
wild full heads you can get, he's slow, but
worth the wait. These are not the regular Fiji
Acros you see commonly, there is a very limited
supply of this best stuff.
The cultured Indo area Acro colonies (Bali, Java,
Banda, Kupang) are excellent quality and size
(3"+, many are 4"). Most have species
lists to choose types and often colors from.
Bali, Banda, and Kupang (Timor) are great for
overall general variety of Indo area corals,
if you want a mix of everything, from LPS to SPS,
softies, shrooms and zoos. Each has some of the
scarcer items on their lists.
Banda is a new source and the corals are excellent.
Order an assorted box of 20 mixed corals, and get
two corals free. Normally it is $35 each, $700 for
the box of twenty, we will refund $70 or have them
put two extra corals in the box. That is 10% off the
regular price, and only 31.50 per coral! The mixed
box is any average priced coral from their list, you
pick which 22 you want. Not valid with any other offer.
Use the button to order. The discount will just about
pay your freight on the box.
Banda Corals List
May 2, 2013
This week we have a very special offer
for a box of Java acropora. These great cultured
colonies are normally $45 each, estimated at 17 pieces
for $765. Order by May 8th and get the box for $700,
which is $65 off the regular price. We will
rebate as soon as your payment goes through,
just use the ordering button. This will pay
the major part of the doemstic freight LAX to you.
It is almost $4 off PER coral. The Java is excellent,
and size is 3" plus full colonies as in the
pictures, many are 4". You can order assorted
or you may pick species, and even in
many cases, the colors, from the Java cultured
SPS list below. You can pick other items besides
Acros if it tickles your fancy. Just send us a
list of 20 you want, as they can be out of one
type or another, or don't have permits to
export that species this week, etc., at any time.
Not valid with any other offer.
You may see the species list here:
Java Species List
To see example photos, scan through our
Acropora Page.
To order, please go to our
Ordering Acropora page, scrolling down to the Java ordering button.
April 21, 2013
Hi all,
Live rock in particular, but coral supplies too, are somewhat tight now,
at least for the fancy rare stuff, there is enough of the standard
basic good corals. Live rock has been quite scarce and hard to get.
One shipment so far this year of fresh air-freighted real deal live rock.
Supposed to be more soon, the dam will break shortly.
As the CITES quotas continue to be reduced, the prices on rarer corals
go up, and they are rationed. The fancier corals are often taking a
couple weeks to be shipped.
Hopefully Tonga will get back on line soon as is being
said, and it will get back to normal consistency shortly.
If you are interested in rock or flower anemones,
please send us a note for a special deal.
Banda is a new coral source, which is very good, priced somewhat
lower than many other places are now. The Banda Islands are
nestled within the Maluku Islands or the Moluccas, east of
Java, in Indonesia.
Please see our new
Banda Corals List.
They have a great selection available from one place.
Keep an eye out, as we're making a "coral list central"
page with links to each area's lists all on one page,
to make it easier for you to find what you are looking for,
or to know what comes from where.
Cultured Acros are great from Java, Bali, Kupang, and Banda, all
of the Indonesia area sources. At most you can pick species,
some allow color choices for some species.
Ask for the lists if you can't find the links.
Also there is a great selection of cultured Acropora and other
corals in the nano size from Fiji. The best wild Fiji whole colonies
can take a couple weeks to get, but are well worth the wait.
Just as a reminder, Indo areas run 17-20 corals per box, Fiji wild 10-15,
usually a dozen lately, the Fiji nano come 40 per box.
The Fiji nano are called tiny, but they're extremely nice cultured frags.
If you can get some friends together to go in together on a box and get say
10 or 15 each, it's a great deal. They will be an assortment of all
the Fiji Acros, cultured nano sized. You can also get the Fiji nano box
of 40 in mixed soft corals, or mixed hard corals, or a combo of Acropora,
hard, and soft in the box, giving a great mix of all Fiji has to offer.
At $18 each, $720 for 40 pieces it too is a great deal.
(+ add $15 Fiji box charge).
These may be ordered from our
Corals Information Page.
SPECIAL SPRING SALE NOTICE!
Here is a very, very special offer you won't see often.
We invite you to take part in our Special Spring Sale.
For coral orders placed by April 30th, we will refund $60 off
of every box. After your order has been placed, you will
receive a $60.00 refund as soon as your payment clears.
That is more than one free coral for every box ordered.
Check out our
Box-lot Specials for what are already some terrific
deals, take another $60 off those prices. Depending on what you order, it could
be $2-3 off of each coral in the box, or at least 1.5 free corals in the box,
unless you custom order super rare stuff, in which case you'll still get one free.
Remember, you must place your order by April 30th.
This special is for coral boxes only, not live rock.
Not valid with any other offer.
March 14, 2013
We'd like to to share a few pictures
with you of a few neat items shipping
these days. From Bali ~ there are examples
of the awesome Euphyllia (Torch) and the
Montipora they culture there.
Bali Box-lot Specials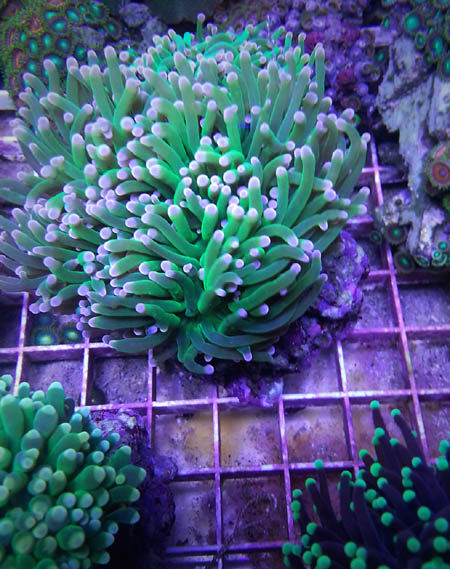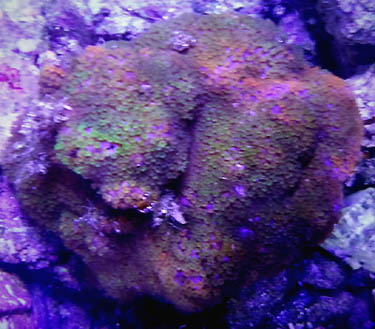 From Viet Nam ~ there are some of
the fancy zooanthids from the
Viet Nam Super Fancy Zoos Box-lot.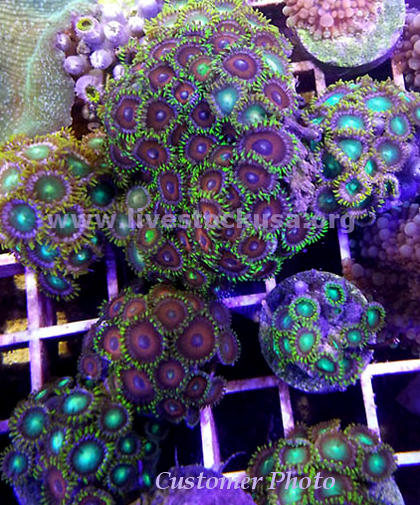 We hope you have enjoyed some of this "eye candy!"
Photos courtesy of www.stlsaltwatercritters.com
March 7, 2013
Word has it that Tonga will be re-opening shortly!
Here is a new photo of
Manado live rock from this year's first
Manado shipment in February that one of our customers sent to us.
The next Manado shipment is supposed to be coming in soon,
so if you're planning on ordering, now is the time, as it
could be sold out next week.
February 26, 2013
Hi Folks,
We have a couple of updates for you.
The first one has to do with a telephone
communication issue ... for instance, if you
try to place a call and receive "dead air,"
especially if your call is being made from a cell phone.
You can now call the following cell phone number,
rather than our toll-free number and we will call
you right back.
The number is: Eight30-Two75-Three144.
**Please do not send any text or data messages.**
Next, we thought you might be interested in what
we've been hearing from customers about some
live rock and corals that have been shipped recently.
So, the following are a few unsolicited
customer comments from the last month.
A special thanks to these customers for
their kind comments!
~ ~ ~ ~
Re: Feb 2013 Fiji Acropora Shipment
"Everything arrived safe and sound.
Whomever packs these corals does a great
job. All 15 Acros are colorful and beautiful
whole colonies. All arrived packed in plenty
of fresh smelling water. They arrived at
about 66 degrees Farenheit, which is not bad
at all considering that they spent time in the
belly of a plane. Thanks for your insight
and great communication. "
Jim B., Denver, CO
~ ~ ~ ~
Re: Feb. 2013 Manado Live Rock Shipment
"Got the rock ... looks absolutely fabulous
and smells just like the ocean. Thanks for everything :o)
Including some pics of this amazing LR!
You guys are the best!"
Thanks again,
Doug C., New Jersey
~ ~ ~ ~ ~
Re: Feb. 2013 Viet Nam Super Fancy Zoos
"I have to say these zoos are excellent quality.
We can definitely do business with this supplier.
Half of them are opening up in the first
two hours out of the box. You can see good
color even when they are closed while taking
them out of the bags. They added some extras,
uncommon mushrooms, even a coco worm and other
softies. No deaths and very well packaged.
All smelled fresh out of the bags.
So happy with this shipment.
Thanks for your work."
F.M., Florida
~ ~ ~ ~ ~
Re: Feb. 2013 Manado Live Rock
"Thank you so much for such good service!
On my order of live rock I'm highly impressed.
I could tell that it is fresh because it did
not have a bad smell to it and I'm sure that
my curing process will be less time. I've never
done business with anyone else and I never will
you all are my friends!! Just as soon as I set up
my cylinder tank I will come back at you all
for 2 more boxes of live rock."
Thanks,
Earl M., Lexington, Kentucky
---
January 21, 2013
We have a new box of mostly mixed fancy
(rare) zoanthids and soft corals from Viet Nam.
There is ample supply of the regular zoos and
soft corals from Viet Nam, but these are very
limited and very special, as they are the
fanciest of the zoos from there, truly spectacular.
The box is a mix of 24 pieces, which is one
third of each of the following ... fancy zoos,
mixed combo rocks (mostly zoos), and Grade-A
soft corals, which is a mix of mushrooms,
leathers, zoos, a soft coral assortment.
Please see our
Box-lots page for more details!
Also, check out the photo page for these
(the link is below and also on the Box-lots page),
noting the frags below the zoos are wholesale only,
but some nice Acanthastrea frags to see if you like them.
Photos
In other news ... shipments from Vanuatu have
ceased for the time being, with no fish, live rock,
or re-open date in sight.
Just a reminder that many of the sources or
importers ship every two weeks, especially those
that originate in the Indonesia area (including Bali),
so how quickly you can get something partly
depends on if that source came in last week, or
if it is scheduled for the upcoming week.
Java Fancy Zoos and Java Acros are scheduled for
next week, so orders are best placed by Wednesday the 23rd.
That's all for now folks!
Stay dry and keep warm!
~birdfish
January 15, 2013
Update on MANADO LIVE ROCK ...
it is expected to be coming in on January 22nd (to LAX) !!
In other words, as of today, Tuesday, you have a couple of
days to get your order in ... ordering by Wednesday is
better than Thursday to be sure you're in!
Also, check out the new Bali box-lot
specials! Bali arrives every other week,
and is on for this Sunday the 20th at LAX.
Box-lot Specials
January 6, 2013
HAPPY NEW YEAR!
We wish all a healthy, happy, and prosperous New Year!
A very big THANK YOU to all of our customers for your
patronage, we really appreciate it. We will continue
to do our best to offer only the highest quality live rock
and corals, and at reasonable prices, besides providing
what we hope is as great a customer experience as
you've ever had. Though due to the economic turndown,
we regret there will no longer be boxes of roses and
chocolates with your live rock. :)
We still have some phone issues from some inbound
long distance carriers (cell mostly) so please try a
land-line, or a couple of the numbers if you have trouble,
or e-mail, and we'll call you. We're here, awaiting an
opportunity to be at your service. :)
For live rock, there is a little bit of good
old-fashioned Tonga available on a limited permit,
which is nearly weekly, but it won't last long,
a couple of months is what it appears, unless and
until the permit is extended or a full permit is granted.
Over Indo way, the Manado is great, it runs about once
a month, depending on a big wholesaler order.
Vanuatu is hoped to re-open again soon, but
still offline presently.
For Acros, Java is the best cultured, and the slow
guy in Fiji (10-14 days to fill order) is the best of
the wild, though the Tonga gives it a run for the money.
Tonga besides great Acros has the best encrusting Montipora.
No matter what you are looking for, please
don't hesitate to ask (send an e-mail) if you don't
see what you want, there are lots of limited sources
of all kinds of things we can get for you. But we
can't do one fish two fish, one coral type of stuff.
A gentle reminder... we do not ship outside
of the lower 48 states and Alaska, e.g., no international.
Nov. 27, 2012
Hi all,
We hope you had a good Thanksgiving! With the peak
holiday season just ahead, now is the time to remind
that many of the importers and exporters close down
from just before Christmas to after the New Year and
there is also the holiday Ramadan in January that
can affect Indonesia supplies. There are a couple weeks
now in which we can order and get everything before
the year-end close down of some sources and locations.
It's not a complete and total shutdown, there will
usually be a few sources shipping during that period,
if it is what you are looking for.
For live rock, the current situation is this:
Fiji is always available. The Manado has been
a once a month thing, and orders need to be placed
soon to get what will likely be the last shipment
of the year, in mid-Dec. or so. It is
invariably sold out. There is some Tonga live rock
available now on a limited basis, most of the
prior flavors: Branch (big or small), shelf,
Eva, Deepwater, Fusion. Vanuatu is still
not back up and running.
Java cultured Acros are great, every two or
three weeks, Walt S. Fiji is OK weekly; slower
(10-14 days) other supplier is better for Acropora,
and Tonga has great Acros and Montis, e-mail if
you'd like a current list.
Think ahead, you need to order soon
to get it before Christmas. ;)
birdfish
October 2, 2012 -
Check out our Live Rock Photos & Pricing Page ...
the Tonga Red Branch and Fusion live rock is once again available!!
Also, there is now cultured live rock available from Tonga.
Tonga Live Rock
September 25, 2012 -
Aqua-cultured Nano Corals from Fiji and Tonga
There are a couple great box-lots of
aqua-cultured nano-sized corals available.
These are aquacultured frags that are small,
but awesome pieces. They are approx. 2", or
"silver dollar sized" (old), depending
on the shape and type of pieces.
You can get a box of all their hard corals,
or soft corals, or acropora. And you can even
get it half or half or with a third of each.
The Fiji box has 40 pieces, the Tonga box is 50 pieces.
They are $18 per piece. On the Fiji, there is a $15
box charge, which is included in the Tonga. As always,
plus domestic freight from LAX to your airport which
you pay to the airline when you pickup.
If you are looking for sellable frags, or
to grow out some frags, or to cover a reef wall
with a selection of Fiji or Tonga, these are ideal pieces.
To order, see our
Corals Information Page.
The Fiji box is $720 (+box), the bigger Tonga box is $900.
There is little to no overlap in what these sites have
available as far as species mix goes.
Normal arrival day is Monday to LAX,
Tuesday to your nearest major airport.
Everything is repacked in L.A., getting new
bags, water and ox. Quality is A-1, 5-star, outstanding.
* LIVE ROCK NEWS *
Holy coralline rock man, there is some
aqua-cultured TONGA live rock available!
A permit has been issued for the one shipper
left there to export some aqua-cultured live rock.
Yes, of course we are plugged in and can get it!
It is a man-made rock made from coral rubble
and bits and cement. A guy named Walt put this
rock under water three years ago and it is
said to look great. We're waiting on pictures,
but wanted to get the word out ASAP.
It will be in 50 lb. boxes, $5.75 per pound.
So $287.50 per box and shipped air freight from Tonga.
Just to reiterate, this is not wild coral pieces
but man made, artificial aqua-cultured live rock.
Important Schedule info...
MANADO live rock is coming Oct. 2, get your orders in!
Thursday is cutoff, Wednesday is better.
That goes for everything every week in case you
did't know..... :):) Thanks!
Sometimes with live rock I can get a Friday order
but not with corals unless Fiji or Tonga, and Thursday
is better fill, Wed. a little better fill. Your order
is across the dateline within a matter of hours of you
placing it, so earlier is better. They have longer to
know what you want and put it together.
September 18, 2012 -
Here's a great deal for the softie fans!
Viet Nam Box-lot Super Specials

Viet Nam has some fantastic mushrooms
and soft corals (they don't allow hard
coral exports), and here we offer a
couple of box-lots that might be of interest.
Like everything, you pay domestic freight
to the airline when you pick it up,
about $100 a box.
Order by Thursday to receive Monday.
A) Box of Mushrooms - 22 pcs. per box, $675
Mixed box will have mostly one of each
kind they have. Green Stripe, Marble,
Violet Blue, Light Green and Light Blue Ricordea,
Maroon and Green Striped Maroon Discosoma,
Green Discosoma, Red, Green, and Blue Velvet,
Dark Red Tonga, Asst. Tonga, Blue Tonga,
Green and Purple Tonga, Green and Orange Tonga,
Blue Bull's-eye, Orange Ricordea,
Neon Green Ricordea, Purple Ricordea,
Green Ricordea, Green and Purple Ricordeo yuma,
Neon Green and Metallic Discosoma.
These are whole rocks covered in
very, very nice shrooms at less
than $31 per piece.
B) Box of Zooanthids - 20 pcs. per box, $650
($32.50 per piece)
This is twenty pieces of their four
main types of zoos ... mixed colors, red,
green outside with red center, bright green.
These are very nice rocks covered in beautiful zoos.
C) Mixed Soft Corals - 25 pcs. per box, $700
($28 per piece)
This is a 25-piece box that has an assortment
of their main types: Foxtail Hairy Tree,
Sabellastarte, Sinularia pavida, Yellow Finger Leather,
Yellow Mushroom Leather, Blue Echinogogia,
Sea Fan (Purple, and Red & White),
Orange Tree Alcyonium, Blue Clove Polyp,
Gorgonians, Dendronepthya.
Two or three of each type make the box.
These will be added to our
Box-lots Specials page shortly ...
in the meantime, if you wish to place
an order, please send us an e-mail
or give us a call.
Our E-mail
birdfish AT livestockusa DOT org
(Insert @ and a dot in place of capital letters)
Toll-free Phone:
(866) 874-7639
(855) 225-8086
Monday through Friday
from 9:00 a.m. to 5:00 p.m.
(Central Time)
If you have trouble getting through,
please send us an e-mail with your phone number.
~ ~ ~ ~ ~ ~ ~
Here are a couple of comments from
the last Manado live rock shipment ...
Date: Wed, 5 Sep 2012
From: Lisa
To: birdfish
The pick up was so easy!! Rock is in the tank ...
you were right, it was worth the wait! :)
~ ~ ~
Date: Wed, 5 Sep 2012
From: Kent
To: birdfish
I just got all the rock into the tank and it's freakin unbelievable!
I'll send pic's soon!!
Kent
P.S. Your information was spot on.
Had no problem at all with the pickup ... thanks!
~ ~ ~
And from the last Java cultured Acropora shipment:
(from a repeat customer)
Date: Mon, 17 Sep 2012
From: Em
To: birdfish
Am happy with my corals. Thanks, Em
~ ~ ~
It's always great to hear!!
Don't miss our live rock sump sale!
Some of the fancy pieces have been sold,
but there are still some great rare Tonga and
Marshall Island pieces available!
Live Rock Sump Sale
August 22, 2012 -
The big news this week is that Vanuatu live rock is
OFFLINE for now! Right now, Manado is the only
available fresh real deal 5-Star air-freighted live rock.
Vanuatu will eventually re-open, but we do not
know how soon at the moment.
Due to the changes in live rock supply and availability,
we have will be offering a higher grade of Fiji boat rock
shortly, just working on the details for it. Since there
are so few choices at the present, we feel it may
serve a purpose for some now.
Tonga Acros are coming in great as usual, as are Java
cultured, and the slow Fiji guy can't be beat, but you
have to wait two weeks.
Although our land line incoming long distance phone
issue persists, we have been informed by more than
one customer that the second number of these two
worked for them on a second or third try!
There does not appear to be any rhyme or reason
for this, but if you cannot get through, simply
send an e-mail with your phone number.
(866) 874-7639 or (855) 225-8086
(birdfish@livestockusa.org)
July 30, 2012 -
First, Tonga is back on-line shipping outstanding
corals just like the good old days! Call or e-mail
us for a current list ... if you have trouble calling us,
please send us an e-mail with your phone number
and we'll call you. (866) 874-7639 or (855) 225-8086
(birdfish@livestockusa.org)
Second, there are two new fantastic NANO coral boxes
available, one from Tonga and one from Fiji. They are
silver dollar (old-fashioned type, not new) sized for the
shorter broader types, and 2" or so tall for the more
vertical varieties (Acros). These are cultured pieces
of the highest quality.
You can order just acropora, hard corals, soft corals,
or mixed. Tonga is 50 pieces per box, Fiji is 40 pieces
per box. They are $16 a piece F.O.B. LAX, everything
included, no additional charges except heat or ice for
the box and the domestic freight you pay the airline
when you pickup. So, the 40 piece Fiji box is $640
and the 50 piece Tonga box is $800.
Third, a reminder you can email us for an excel file
with lists from a dozen places on it!
We're working on a new mineral supplement for you,
so keep your eyes out for that soon..... :)
Again, if you have trouble calling us,
please send us an e-mail (birdfish@livestockusa.org)
with your phone number.
If your call doesn't go through please see
the FCC link below to file a complaint, as
well as one with your long-distance carrier
in hopes of this problem getting solved!
FCC - Long Distance Calling Problems
Some recent items of interest ...
Live Rock Sump Sale
Super Summer Coral Sale
"Something for the Ladies"
New Pictures of Manado Live Rock
July 11, 2012 -
Check out these pix of the last Manado live rock shipment.
Many thanks to Jess M. for sending them. As you
can see, it is beautiful live rock, the real deal
fresh and covered with color and encrusting growth
of various types, corallines, halimeda, etc.
The next shipment is currently scheduled for a window
of the 22nd-26th arrival to LAX, exact date not yet
set firm, but that is the plan as of today.
Get your orders in soon to make sure you get some
of this beautiful live rock.
Manado Live Rock
July 3rd -
Wishing everyone a happy Fourth of July!
We have a treat for you if you are looking for
individual pieces of cured live rock ...
check out our
Sump Sale
to see what we are
offering from our personal stash!
!! Includes pieces from Tonga and the Marshall Islands !!
Here is an update on the telephone problem that
may exist for some of our customers (based on certain
long distance carriers, as described in our "Special Notice"
further down this page.) Again, if you have trouble calling us,
please send us an e-mail (birdfish @ livestockusa.org)
with your phone number.
FCC - Long Distance Calling Problems
June 27th -
One of our customers sent us some photos
of his Fiji live rock ... which you can
see on our
Live Rock Photos & Pricing Page.
(Photos taken right out of the box upon receipt.)
Special Notice
If you have tried to contact us and cannot get through,
it may be due to a problem with the long-distance services
of Sprint and Verizon coming into our area via landlines,
according to our local telephone company. So, callers to
our toll-free number or long distance number may be
experiencing problems and receiving nothing but
"dead air" when they attempt to call.
Apparently, this is not affecting everyone, but we have
had multiple customers who cannot get through using
their hard-wired landline, yet they can get through
using their Verizon cell phone. Also, Sprint customers
have not been able to reach us, but if they use an
AT&T phone, their call is placed without any problem.
As far as we know, there is only a problem if your
long-distance carrier is Sprint or Verizon.
So if you try to call and get dead air, please complain
to your phone company that you are unable to complete a
call to a number in the area serviced by Southwest Texas
Telephone with the area code of "830" (with a toll-free option.)
Most likely, you may be a Sprint or Verizon
long-distance customer; if not, perhaps your
carrier contracts on their lines. But, please do
complain, as apparently not enough people are yet. :)
(Squeaky wheels get grease.)
Meanwhile, in order to reach us if you are unable to get
through on the phone, please send us an e-mail with your
phone number and we will call you.
We apologize for any inconvenience ... our local phone company,
and long-distance company are working on the problem
from their end, but it is an inbound issue on those
(Sprint and Verizon) landlines only.
birdfish
Toll-free: (866) 874-7639
(830) 966-2349
E-mail -
birdfish&nbsp@ livestockusa.org
(Remember to remove spaces from e-mail address if copying from this page.)
June 6, 2012
Leroy Headlee - In Memorium

It is with great sadness we learned of the passing last week of Leroy Headlee, founder of Geothermal Aquaculture Resource Foundation (GARF). Leroy was a pioneer in the industry and had a truly great "wet thumb." Much of what is a major segment of the saltwater hobby today, fragging corals, owes a big share of its popularity to one of its orginal founding believers and promoters, Leroy Headlee. He was ahead of his time in many ways, and certainly he left us too soon as well. He didn't just know about keeping and fragging corals, he knew everything from major pond-keeping to breeding angelfish, he was the real deal aquatics man through and through that knew his stuff.

I have several old (20 years?) aquarium magazines that have Leroy's articles, on breeding angelfish, and one of the big marine ones early on, setting up the bulletproof reef (or somesuch) it was titled. As one that had done both, I am very critical of articles, and thought they were both great. Little did I know when I was reading them, I would become friends with, and gadzooks for a decade, a supplier to him. (Yes, many of those frags y'all got a long time ago, was our Tonga, Fiji, and Timor.)

He had a great way of making complex simple and that "bulletproof" article got a lot of people to take the leap into saltwater, by making them see they could do it. Leroy did the same thing with fragging. He got LOTS of people to do it, to try something they might have been afraid of. Nearly two decades ago (at least) he was cutting Acros, and he spread his knowledge freely, far and wide. The truth is, there were some industry people that felt he shouldn't be spreading these secrets. Leroy created another industry teaching others what he learned, and it has spread like wildfire.

He had a great positive influence on many, that will be felt for some time to come. The new generation of fraggers might not realize how what they do in some ways can be traced back to Leroy Headlee's pioneering work to teach everyone how easy it is to keep marine, or how to frag stuff. Just as the books people read today are written by people that grew up on Axelrod, though today's newbie might not know who he was.

He was a nice guy, a good man, funny, knew how to love life and live happy, and I'm sure will be greatly missed by many who knew him. Our heartfelt condolences go out to all of his friends, family, and especially to his dear wife, Sally Jo, whom was the light of Leroy's life.
~ birdfish
May 28, 2012 -
Our apologies ... we have been having a bit of
trouble with our toll-free number phone line!
(866) 874-7369
If you have tried and could not
get through, please send us an e-mail.
This problem is currently being fixed!
Also, we now have coral lists available
on Excel to e-mail ... if you would like one,
please e-mail us!
E-mail: birdfish&nbsp@ livestockusa.org
(Remember to remove spaces from e-mail address if copying from this page.)
April 19, 2012 -
We have some new articles on our
Earth Day
page.
Have a Happy Earth Day!
Please keep in mind that live rock and corals often
only come in every couple of weeks ... so, if you order
right before the next shipment, it will be quick, but if
you order just after one came in, you may have to
wait a week or two.
Note ... Tonga corals are available in a 14-piece box
again, so it's not the 30-piece "monster box" that it's been.
Also, some of the coral sources are only shipping
every two weeks, such as Java acropora.
April 3, 2012 -
In order to share a variety of websites and articles,
we have created a Facebook page ...
add us to your "like" list for future updates!
livestockusa.org
March 25, 2012 -
We have now have Fiji air-freight live rock available on our
Live Rock Photos & Pricing Page
and you may place your order on our
Ordering Live Rock Page
.
February 15, 2012 -
Some changes in availabilities are coming soon! The new CITES permits, as in every year recently, have severely restricted another few species and individual numbers. There is a new list of corals from Indonesia on our
Hand-collected Hard & Soft Corals
page.
We will soon be offering tanked stock of fish and corals ... the lists will be up in about a week or so. You will be able to select from a current stock list and get shipments nearly any day of the week.
And, if that's not enough, you aren't going to believe it, but Fiji air-freight live rock is once again available at a good price. It will be up on our
Live Rock Photos & Pricing Page
soon. Many of the Indonesia area types of live rock are no longer available, as each piece is being counted as a coral against shipping quotas, so the exporters do not want to use their permitted allotment up on a piece of rock, instead of a coral.
So, keep your eye on the webpage for these and other new things we will be bringing you this year.
---
January 16, 2012 -
Happy New Year! We hope you had good holidays! We are working on re-doing lots of the pages on our website, so please bear with us as we work on it. There will be some new things coming very soon we think you'll like.
Manado live rock is really coming in great, as is of course Vanuatu as always. The other types of live rock are currently off-line. We expect Vanuatu before the end of January, and the first Manado of the new year will be coming in on February 6th.
The coral shippers are starting to get back up and on-line.
The mixed boxes from Kupang, Timor are really great. $700 or $35 per piece for large whole colonies with a great assortment of twenty mixed corals ... hard corals, softs, shrooms, zoos, etc., the perfect tank stocker. These are the nice big $70-100 pieces in most stores and all will be the best colors and good size.
Please see our
Box-lot Specials
page.
---
We wish you a Merry Christmas and a Happy New Year, and we hope you have a GREAT Holiday Season! We'd like to thank all of our fans, supporters, customers, readers, we appreciate your stopping by, and patronage!
Many of the sources overseas normally shut down for the holidays, and some already have done so. Fiji and Tonga are still shipping great wild Acropora colonies, and Tonga great encrusting Montipora. The best cultured Indo area Acros for the last six months plus are Kupang, 17 avg. pcs. per box, $45 each, $765 for the box, $800 if they put in 18 pieces ... these are better than Bali or Java and many different types come in the boxes, but no choices, just assorted, and you will be very happy. Most of the live rock is already done until the New Year with Vanuatu's final shipment for the year is most likely on the 18th.
We will have some new exciting things to offer next year so keep an eye peeled and check back soon!
Our very best to you and yours,
Mitch
(birdfish)
Home
To view other pages, you may
choose from topics in dropdown menu ...

Site Map
© www.livestockusa.org 2012